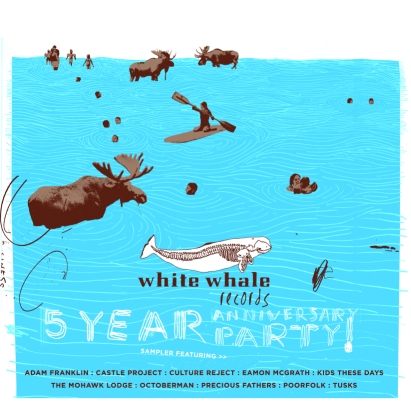 Das feine kanadische Label White Whale Records gehört zu unseren neuen Entdeckungen. Wie hier und hier schon zu lesen war, ist SomeVapourTrails ganz begeistert von Eamon McGrath. Der Roster des Labels bietet jedoch noch mehr  feine musikalische Perlen. In den kommenden Wochen werden wir euch auf Lie In The Sound weitere Künstler von White Whale vorstellen.
Zum besseren Kennenlernen gibt's die White Whale Compilation frei Haus.
Tracklist:
1. Precious Fathers – Swells
2. Adam Franklin – Shine A Light
3. Tusks – Mothers Vs. Sons
4. Eamon McGrath – Holy Roller
5. Octoberman – Thirty Reasons
6. Poorfolk – Dead Pan Dance
7. Culture Reject – Blueprint
8. The Mohawk Lodge – Timber
9. Castle Project – Broken Glass
10. Kids These Days – Aging Friends (Snowcapped)
Auf Tour in unseren Breiten:
CULTURE REJECT
28.10.09  – GRAZ – The Office
3.11.09 – BERLIN – Mme. Claude
4.11.09 – KASSEL – Keller Kunsthochschule
5.11.09 – BERLIN –  Schokoladen
Links: White Whale Records, Culture Reject
Viel Spaß damit!
DifferentStars