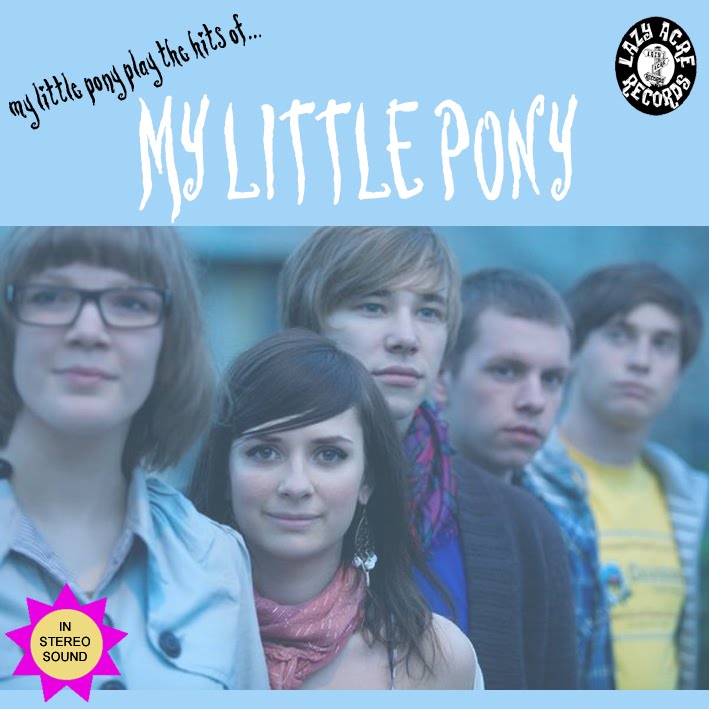 Meine verehrten Damen und Herren – genug der Blicke auf die dunklen Seiten des Lebens. Falls noch jemand ne sexy Krankenschwesternuniform übrig hat, immer her damit. Man soll ja aus jeder Situation das Beste machen 😉 Im Postfach und Netz sowieso brodelts nur so vor Blogfutter gebenden Neuigkeiten und auf Besprechung wartenden Releases. Sehr amüsant und auch zum Thema passenden: Der Beaf zwischen der Zeit und der Spex. Geht oder ging eigentlich um die von lustig bis nervig rangierenden Waschzettel, mit denen die Promofirmen für ihre Künstler und deren Veröffentlichungen werben und dem Umgang der Musikjournalisten mit der vorgefertigen Beschreibungsvorlage… sowas kann ausufern und amüsant sein.
Die Packungsbeilage für die My Little Ponys kostenlose Ep My Little Pony Play The Hits of… My Little Pony liest sich lustig bis bitter, ist hoffentlich nur ein Scherz, aber bei dem Irrsinn mit dem man so im Musik-Biz bisweil konfrontiert wird, wer weiss… 😉
Lazy Acre Records just released our first EP in the UK entitled "mylittlepony plays the hits of My Little Pony". It has four tracks from "Think Too Much" and one from the forthcoming album. Apparently we are getting a lawyer too. We don't understand why really, but they say it's highly recommended in England. I don't really like England that much. Used to live there once. Sucked. But it could probably be nice to go there with the band. You can download the EP for free here: http://fullstoptobadpop.blogspot.com/
Musikalisch gesehen ist die Ep ein kleiner Schatz an hübschen Songs und wird hier gerne weitergereicht.
My Little Pony – Capital Of Norway
My Little Pony Play The Hits of… My Little Pony
Tracklist:
1) Capital of Norway
2) Skipping Down The Street
3) A Sing For You (On Your 40th Birthday)
4) The Comic Relief
5) Macgyver Blues
Download: My Little Pony Play The Hits of… My Little Pony Zip
My Little Pony – Skipping down the Street
Viel Spaß damit!
DifferentStars