Ein Grund, warum Twitter doch hin und wieder Sinn macht (oder wie der Sprachsnob sagt ergiebt) ist die Tatsache, dass so manch feiner Mp3-Tipp von Freunden bei uns auf dem Blog landet. In diesem Fall stammt die Musikempfehlung von Mackintosh Braun einem feinen Electropop Duo aus Portland, dass zur Zeit fleißig an der Fertigstellung ihres zweiten Albums werkelt. Diese haben mich weiter gesandt zu The Music Slut, die heute einen Appetizer auf den neuen Longplayer von Midnight Juggernauts verschenken.
This New Thechnology ist ne feine Nummer – auch wenn Synthpop immer ne Randerscheinung hier auf Lie In The Sound bleiben wird, so ganz abgeneigt bin ich dem Genre dann doch nicht. Wobei – ich muss mir noch ein wenig Wissen zum Thema Indietronic anlesen um mein Gefallen musiksnobhaft besser untermauern zu können 😉
Mp3: Midnight Juggernauts – This New Technology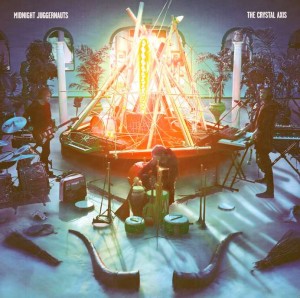 The Crystal Axis
VÖ: Juni (TBA)
Tracklist:
Induco
Vital Signs
Lifeblood Flow
This New Technology
Lara Versus The Savage Pack
The Great Beyond
Cannibal Freeway
Virago
Winds Of Fortune
Dynasty
Lemuria
Fade To Red
Link: Midnight Juggernauts MySpace
Viel Spaß damit!
DifferentStars