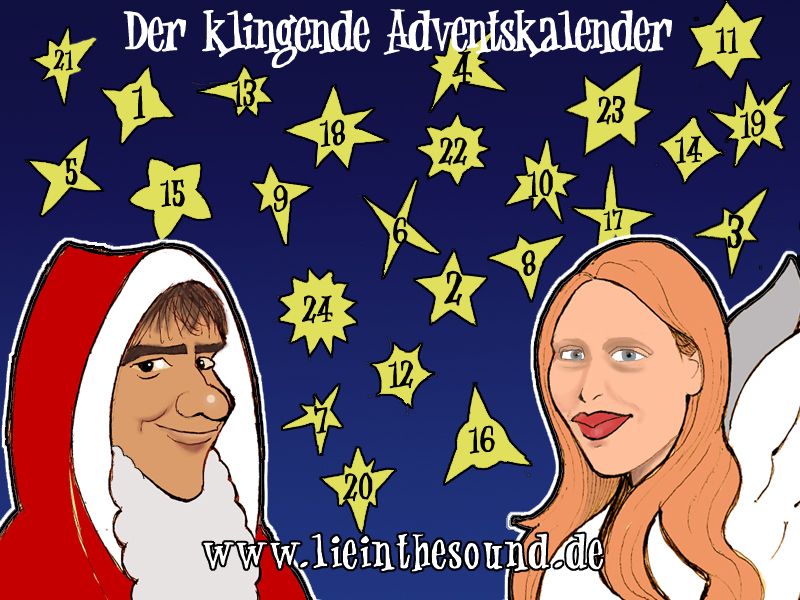 Alle Jahre wieder, so natürlich auch 2010 verfallen wir den schönen, lustigen, traurigen, besinnlichen und überraschenden Weihnachtsklängen.  In guter alter Tradition wird sich in unserem Adventskalender jeden Tag ein neues Türchen öffnen, hinter dem sich ein kostenlos verfügbares Weihnachtslied verbirgt. Dank dem wunderbaren Steffen Nölle erscheinen wir nun auch als Weihnachtsengel und Nikolaus auf dem Blog. Die Karikatur war das erste Weihnachtsgeschenk an uns  in diesem Jahr und wir finden er hat uns sehr gut getroffen. Viel Lob, Dank und Anerkennung gebühren hier dem Zeichner.
Hier geht's zum klingenden Adventskalender 2010.
Our true readers are quite aware that we do have a crush on Christmas tunes, sad, funny, melancholic and unexpected ones. This year's new addition to our tradition is the attempt to rule the whole world with out Indie Music Christmas Spirit doing an English/German version  of our Advent Calendar. You will find one free Christmas song behind each door. A very special Thank You goes to Steffen Nölle who made the amazing caricature which shows us as Christmas angel and Santa Claus.
Find the Christmas treats on our Musical Advent Calender site.
DifferentStars