Ho! Ho! Ho! Canada Deux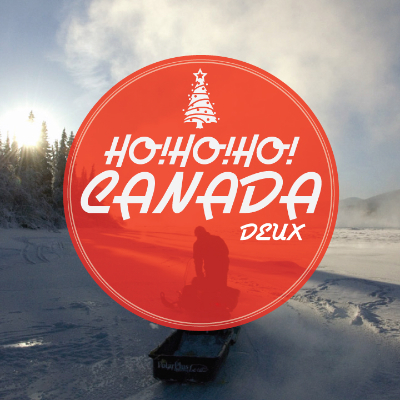 Als deklarierter Fan Kanadas und ausgesprochener Liebhaber der Weihnachtszeit möchte ich heute die Gelegenheit beim Schopf packen und eine Zusammenstellung kanadischer Musiker hinter das heutige Türchen unseres klingenden Adventskalenders schmuggeln. Auf The Line Of Best Fit gibt es 2 CDs voller weihnachtlicher oder zumindest besinnlicher Klänge als kostenloser Download, darunter viele Lieder, die extra für diesen Anlass aufgenommen wurden. Auf dem Sampler Ho! Ho! Ho! Canada Deux findet man einige feine Songs. Das Herz der werten Co-Bloggerin öffnete sich ausgerechnet bei einem der wenigen Tracks, die ohne expliziten Weihnachtsbezug tönen. Denn die von uns innig verehrten Great Lake Swimmers haben mit dem Titel Gonna Make It Through The Year zweifelsohne das schönste Lied beigesteuert.
I love Canada – and Xmas too. So I can't help but smile, because The Line Of Best Fit asked Canadian bands to contribute to a Christmas compilation. The results are often stunning. Ho! Ho! Ho! Canada Deux offers 30 tracks dealing with Christmas or winter. My dear co-blogger immediately enjoyed Gonna Make It Through The Year by our beloved Great Lake Swimmers. Although it's one of the few songs not targeting Christmas, I have to mention this one. Easily the best original track on this sampler.
Great Lake Swimmers – Gonna Make It Through The Year by nettwerkmusicgroup
Prima gerät der winterliche College-Rock-Track Snow, den die in Vancouver beheimatete Band The Zolas beigesteuert hat.
The wintry college rock song Snow is pretty impressing too. I haven't been familiar with The Zolas before, but this tune makes me curious. Thumbs up.
Von den sich wirklich mit dem Fest aller Feste beschäftigenden Tracks sticht zum Beispiel der schroffe Sechziger-Sound von Material Xmas hervor, die Formation Boxer the Horse sollte man sich unbedingt notieren. Wer es flockig-poppig und unbeschwert mag, dem sei der Singsang Green Trees Red Hearts von Nat Jay unter den Christbaum gelegt. Ebenfalls ein kleines Juwel schenkt die wahrlich nicht unbekannte Basia Bulat mit You Are A Gift.
Let's take a closer look at the songs celebrating Xmas. Well, kind of celebrating. Material Xmas is the kind of track which should have been recorded in the Sixties. Boxer the Horse do a heck of a job. Definitely more easy-going seems the decent pop tune Green Trees Red Hearts by Nat Jay. If you don't know Basia Bulat yet, I'm pretty positive this will change immediately. You Are A Gift is a gem.
Eine wirkliche gelungene folkige Interpretation eines uralten Weihnachtsliedes liefern The Provincial Archive mit Coventry Carol. In die gleiche Kerbe schlagen The Wilderness of Manitoba mit dem erhaben präsentierten Kirchenlied We Three Kings. Das enthusiasmiert nicht nur Traditionsbegeisterte.
Two traditional Christmas carols shouldn't be forgotten. The Provincial Archive deserve applause for chosing the Coventry Carol and The Wilderness of Manitoba for their noble version of We Three Kings.
Mit derlei facettenreichen Tönen sollten alle Geschmäcker bedient werden. The Line of Best Fit verdient für diese Compilation ein großes Dankeschön.
I love the various styles on this compilation. Many thanks to The Line Of Best Fit. That's what I call a beautiful present.
Free Download / Kostenloser Download
SomeVapourTrails
Head over to our Advent Calendar site to find more Christmas treats: