See English version below!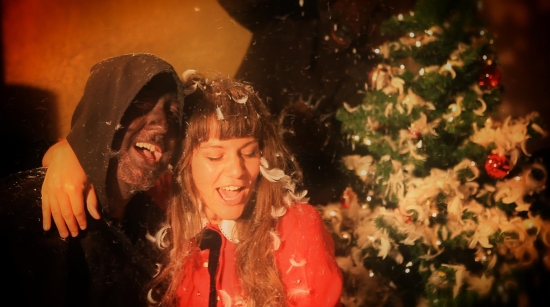 Zum Auftakt des klingenden Adventskalenders wollen wir heute unseren südlichen Nachbar die Aufwartung machen. Nein, nicht den sympathischen Österreichern, vielmehr lassen wir den Blick in die Schweiz schweifen. Von dort kommt unterm Jahr nicht wirklich Gutes, außer der einen oder anderen Steuersünder-CD, doch gerade zu Weihnachten kann man zumindest leckere Schokolade erwarten. Und ein wirklich nettes Weihnachtslied samt entzückendem, schwarzhumorigem Musikvideo! Monotales feat. Heidi Happy stimmen All I Ever Get for Christmas Is Blue an. Wo viele Menschen Weihnachten voll Lieblichkeit oder Frömmelei erleben, wird hier dem Weihnachtsblues einsam gefrönt. Gerade zu Beginn des Advents lässt sich solch eine Vorstellung noch gut ertragen, bleiben doch noch 24 Tage um nicht das gleiche Schicksal zu erleiden.
This year we want to start our Advent calendar by taking a look across the border to Switzerland. Our neighbour might be famous for delicious chocolate, not so much for music. Nevertheless this time we discovered a real nice Christmas tune from Switzerland: Monotales feat. Heidi Happy are celebrating loneliness with the song All I Ever Get for Christmas Is Blue. That's the sort of tune you can still enjoy listening, knowing that there are 24 days left to avoid this fate. Don't forget to check out the enchanting music clip which comes with this track!
Download: All I Ever Get for Christmas Is Blue at Bandcamp:
Und hier geht es zu den anderen Türchen unseres klingenden Adventskalenders! / Go to our Advent Calendar site to find more Christmas treats!


SomeVapourTrails