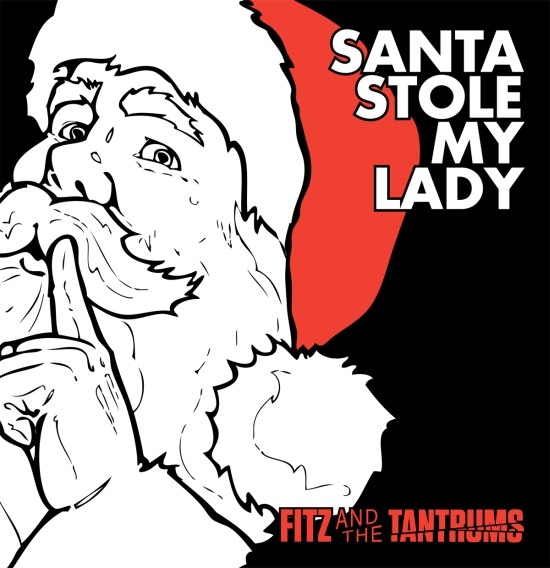 Ein paar Weihnachtslieder dürfen es schon noch sein, ehe man ihrer dann in wenigen Tagen wieder überdrüssig wird und sie für 11 Monate einmottet. Doch diesen Zeitpunkt, wenn man nach den Feiertagen mit ein paar Kilo mehr ausgestattet dem nächsten Ereignis – dem Jahreswechsel nämlich – entgegenharrt, diesen einen Moment, wenn all die Weihnachtsherrlichkeit zusammenbricht, haben wir ja noch vor uns. Bis dahin darf auch noch das eine oder andere Schreckensszenario entworfen werden. Denn entgegen der landläufigen Meinung gibt es schlimmere Dinge als abgefackelte Christbäume oder ausgewählt scheußliche Krawatten, die man geschenkt bekommen hat. Die amerikanische Band Fitz and The Tantrums malt den Teufel in Form des Weihnachtsmannes an die Wand. Santa Stole My Lady jammert die Band in feinster Soul-Pop-Manier. Tatsächlich klingt der Gedanke gar nicht mal abwegig, warum zum Henker soll ausgerecht der Weihnachtsmann kein notgeiler alter Sack sein, der ein Auge auf hübsche Dinger wirft? Das ist vielleicht der Preis, den wir in hiesigen Breiten zahlen müssen, wenn wir das Christkind von solch einem Lustmolch ablösen lassen. Selbst am Heiligen Abend dürfen wir nun um die Liebste bangen. Danke dafür, Coca-Cola!
via Stubby's House of Christmas
Viel Spass damit!
SomeVapourTrails

Unsere Liste mit den Weihnachtsliedern 2012 updaten wir täglich. Vorbeischauen lohnt!