In unserem Promo-Fach weihnachtet es schon eine ganze Weile, Mails beginnen plötzlich mit einem enthusiastischen "Hoho" und der Goldene Herbst vor der Tür wandelt sich in ein regentrübes, den Schnee herbeisehnen lassendes Unschönwetter. Die ersten Lebkuchen haben wir schon vor 2 Monaten gegessen und wenn der Liebste und Co-Blogger nicht bald einen Adventskalender heimbringt, sind die auch schon wieder ausverkauft. Da hilft nur eines, mit Tusch und Tata offiziell den Lie-In-The-Sound-Christmas-Wahnsinn einläuten. Schuld sind auch zwei Helden meiner frühen Jugend, während andere Musikkenner schon damals einen furchtbar eklektischen Musikgeschmack hatten, hüpfte ich vergnügt zu Synthiepop durch die Gegend. Klar, ich hätte es besser wissen müssen und eher düsterblickend der Schwere des New Waves huldigen sollen. Aber egal. Wenn Idole von damals 'ne Frischekur einwerfen und ihr Comeback verkünden, dann verheißt dies oft nichts Gutes. Wenn's dann auch noch ein Weihnachtsalbum wird, ist's schon ein angemessener Grund sich zu fürchten. Nun denn, Erasure sind die Ausnahme, die die Regel bestätigt. Dem famosen Weihnachtsalbum Snow Globe wird hier noch ausführlich gehuldigt werden. Heute stelle ich Euch erstmal die erste Single vor.
Erasure – Gaudete
Snow Globe erscheint am 08.11.2013 via Mute/GoodToGo.
Album-Stream: Auf depechemode.de könnt ihr Snow Globe komplett anhören.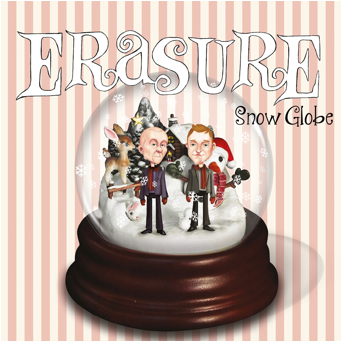 Auch das erste Weihnachtsgeschenk ist schon bei uns eingetrudelt. Passenderweise mit 'ner gehörigen Portion Sehnsucht nach Schnee. "Waiting For Snow" von den terns ist eine wunderbar entspannte Indie-Rock-Pop-Ballade ohne Jingle-Ling oder Glöckchen-Kitsch. Entspannte Vorfreude statt Pathos, für mich genau das Richtige im Spätherbst. Nach vielen Jahren des Bloggens über Weihnachtsmusik erfreuen mich natürlich Neukomposition mehr als eine gefühlt millionste Version von Silent Night und Co. Die kostenlose Christmas-Compilaton a rarebird in a pear tree vol. 3 featured einen schönen Mix neuer und traditioneller Christmas Songs. Für meinen Geschmack wurde hier an der ein und anderen Stelle ein bisschen zuviel Inbrunst und Pathos vertont. Liebehaber  von  Folk und Alt-Country werden aber sicher unter den Liedern von Shelley Gordon, Jason Paul Johnston, Rebecca Rowan, Matt Coleman, Marie Avery und Jordan Fox ihren ganz eigenen Favoriten finden. 2011 war für  mich Shelley Gordons (Shelley Adams) Beitrag Snow, Snow and Mistletoe strahlendes Highlight von a rarebird in a pear tree vol. 2, ein Klick weiter lohnt sich, auch dieser Weihnachtssampler ist nach wie vor gratis erhältlich.
Link: rarebird records
Xmas 2012
…und die klingende Weihnacht 2013 – Lieder für unter, über und um den Weihnachtsbaum
Unsere klingende Weihnacht 2012 war eine große Freude, daher werden wir auch in diesem Jahr wieder durchs Netz streifen, um die schönsten Weihnachtsklänge für euch zu finden. Viele der kostenlosen Weihnachtsalben, EPs und Mp3s, die wir im vergangenen Jahr besprochen haben, sind nach wie vor erhältlich. Zum Neu- und/oder Wiederentdecken, haben wir Euch hier die musikalischen Geschenke nochmal aufgelistet. Richtig los, mit neuen Releases, geht's erfahrungsgemäß in der letzten Novemberwoche.
Country
Samantha Crain – "Christmas For Cowboys" (Christmas Classic, Country)
Samantha Crain – Breaking The Ice (Country, Pop)
Arrica Rose & the …'s – On Christmas Night (Original Christmas Song, Alt-Country)
Singer-Songwriter
Damien Jurado and Kyle Zantos – Kalla Hus (Original Christmas Song, Singer-Songwriter)
Folk
Xmas Sampler: A Harvest Star Christmas (Folk, Americana, Traditional)
Sofia Talvik – One Last Wish For Christmas (Original Christmas Song, Folk-Pop)
Moddi – Nordnorsk julesalme (av Trygve Hoff) (Traditional, Folk)
Pitch Feather – Jolly Old St. Nicholas (Folk-Pop)
Golden Fable – Blithe Spirit (Folk)
Wayfarer – The Holly & The Ivy (Traditional, Folk-Rock)
The Lost Cavalry – Christmas Wrapping (The Waitresses cover) (Christmas Classic, Folk-Pop)
BROKOF – Tomorrow is Christmas (Original Christmas Song, Folk-Pop)
Ryan McAllister – Whiteout Christmas (Original Christmas Song, Folk-Pop)
Christine Berger (feat. Ben DeVries) – Leise rieselt der Schnee (Traditional, Folk)
Indie Pop
Sufjan Stevens – Silver & Gold 12 free Christmas Songs (Original Christmas Songs, Indie Pop)
Ex Cops – Wonderful Christmastime (Christmas Classic, Indie-Pop)
Parenthetical Girls – "Rejoice! Rejoice!" (Original Christmas Song, Drama-Pop)
Butterflies On Strings – Looks Like Snow (Original Christmas Song, Piano-Pop)
Beartown Zodiac – Keep Christmas Just For Us (Original Christmas Song, Twee-Pop)
A Fine Frenzy – Happy Little Christmas (Original Christmas Song, Pop)
xmas movie soundtrack – xmas movie soundtrack (Original Christmas Song, Pop)
Dream-Pop
Ormonde – Angels We Have Heard On High (Traditional, Dream-Pop)
Shoegaze
The Sky Drops – Christmas Time Is Here/ Christmas Feels Like Halloween (Original Christmas Song/ Christmas Classic, Shoegaze)
Retro-Pop
The Cornshed Sisters – A Very Cornshed Christmas (Original Christmas Song, Retro-Pop, Swing)
Paper City – Christmas Of Love EP (Original Christmas Song, Twee-Pop, Beach-Pop)
Ash Reiter – Christmas In California (Christmas Classics, Retro-Pop)
Fitz and The Tantrums – Santa Stole My Lady (Original Christmas Song, Soul-Pop)
Indie-Rock
Paper Route – Christmas Day (Original Christmas Song, Indie-Rock)
The Plastic Billionaires – Down In Yon Forest (Traditional, Pop-Rock)
Ska
The Penguins Ska Band – White Christmas (Christmas Classic, Ska)
Electronica
Golau Glau – Lucky Bird (Original Christmas Song, Electronica)
Comedy
Tuxedo Bandido – It`s Christmas Crime (Comedy)
The Timburtons – Dr. Jekyll & Mr. Claus (Anti-Weihnachten, Heißer Hipster-Scheiß)
Schön gemischt:
Christmas Compilation: PASTE HOLIDAY SAMPLER 2012 (Indie, Rock, Pop, Folk)
Christmas Compilation: Ho! Ho! Ho! Canada 4 (Indie, Rock, Pop, Folk)
Viel Spass damit!
DifferentStars