English/Deutsch

Download Noel Interdit for free dirctly  Soundcloud.
Noel Interdit has been played many times on repeat at Lie In The Sound HQ since Guuzbourg wrote about it at Christmas A Go Go. Some songs are magical to me, like switching on a seventies lava lamp this songs just turn my world into the coolest Club on earth. Really, the old ikea furniture in our flat suddenly looks pretty hip and cool. Even guys who hate Christmas won't be able to frown while listening to this beautiful cover version of the Johnny Hallyday classic. Highly disturbing (in a good way) sounds their kind-of-cover version of Last Christmas.  It completely changed my opinion about Last Christmas covers.from: "Hardly any artist should cover this living-dead-Christmas-pain" to: "Hardly any artist but DTCV should cover…." The French-American post-punk band has thus far released three full length albums: HOWEVER STRANGE (cassette) on Burger Records in 2012; HILARIOUS HEAVEN, a double album recorded by Steve Kille of Dead Meadow, on Xemu Records (2013); and THE EARLY YEAR, a comp of EPs/singles on Mock Records in 2014. Currently they do offer their complete back catalog for free at Bandcamp. Ah and btw just in case you are too old to be a real native digital: DTCV is pronounced Detective. Don't worry, I spent hours wondering what SPC ECO means before my dear co-blogger and boyfriend told me (and you) but thats another story and amazing band.
Noel Interdit ist hier im Lie In The Sound HQ schon so einige Male on repeat gelaufen, seitdem Guusbourg sie auf Christmas A Go Go empfohlen hat. Manche Lieder sind einfach magisch, sie tauchen die ganze Welt in ein ganz neues Licht, beamen uns in eine andere Welt und verwandeln ein stinknormales Appartment in eine coolen, hippen Club. So ein bisschen wie eine 70er-Jahre-Lavalampe. Selbst mein altes Ikea-Mobiliar sieht auf einmal cool aus. Sogar Weihnachtshasser werden während des Hörens des Covers dieses Johnny Hallyday-Klassikers ihre Mundwinkel nicht nach unten ziehen können. Sehr verstörend, im besten aller möglichen Sinne, tönt Sabbath Santa, eine sehr spezielle Art von Interpretation des Wham-Songs Last Christmas. Zumindest hab ich jetzt meine fast unverrüttelbare Haltung bezüglich Coverversionen des untoten Weihnachts-Evergreens korrigiert. Von: "Kein Künstler sollte jemals dieses Lied covern", zu: "Kein Künstler außer den DTCV sollte…" Die französich-amerikanische Band hat bisher 3 Longplayer veröffentlicht. HOWEVER STRANGE (Kassette) auf Burger Records (2012); das Doppelalbum HILARIOUS HEAVEN auf Xemu Records (2013); und THE EARLY YEAR, eine Compilaiton von EPs/Singles auf Mock Records in 2014. Im Moment bietet die Band ihren komplette Backkatalog kostenlos zum Download auf Bandcamp. Ach, und falls ihr zu alt seid, um ein wahrer Digital Native zu sein: DTCV spricht man "Detective" aus. Macht euch keine Sorgen, wenn ihr da zuerst ein bisschen ratlos ward. Ich stand ewig auf dem Schlauch, bis mir (und euch) von meinem Liebsten und Co-Blogger erklärt wurde, was denn SPC ECO bedeutet. Aber das ist eine andere Geschichte und eine andere wunderbare Band.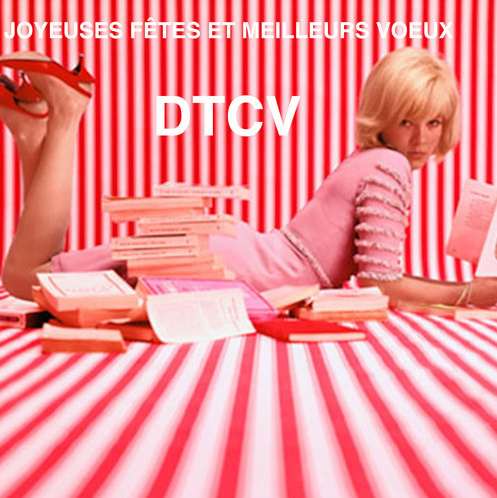 Link: dtcvband.com
DifferentStars