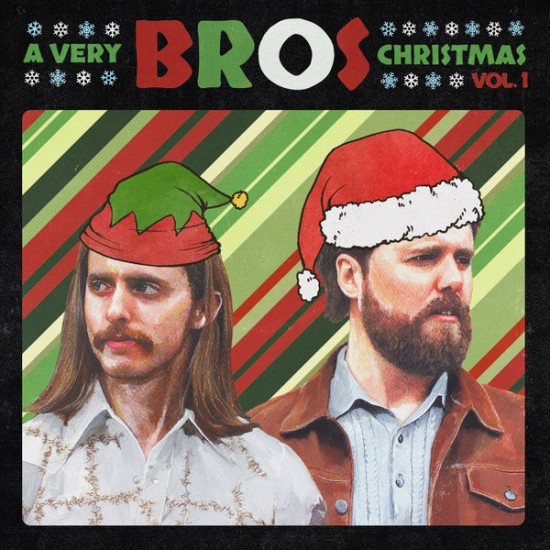 Die vergnüglichste neue Veröffentlichung dieser Christmas Music-Saison kommt von BROS. Vintage ist der neueste shice.  Speziell wenn es um Musik geht, noch spezieller, wenn diese tatsächlich auf Vinyl erscheint. Natürlich ist das ein Oxymoron.  A Very BROS Christmas klingt nur so, als hätte wir es gerade aus der Plattenkiste unserer Eltern gekramt. (Oder ihr, wenn ihr noch Twens seid, aus der Truhe eurer Großeltern). Aber nach dem vor kurzem erst in Berlin Tagebuch und Devotionalien von John Lennon aufgetaucht sind, hätte, HÄTTE es sich bei dieser Scheibe auch um eine bisher unbekannte und verschollen geglaubte Kollaboration von  Beach Boys und Beatles handeln können, zumindest klingen sowohl A-Seite It's Christmas Day und B-Seite These Things Comfort Me so.
BROS ist das Sideprojekt der Brüder Ewan and Shamus Currie, Frontman und Keyboarder der Kanadischen Band The Sheepdogs. Ihre Einflüsse erklären die beiden so:
Ewan:
"It's fun to try and write something as classic and old-fashioned as a
Christmas song. I tried to focus on the feelings of nostalgia and wistfulness that I associate with Christmases past. I took inspiration from old chestnuts like "The Christmas Song", "Baby It's Cold Outside" and "It's Beginning To Look A Lot Like Christmas"."
Shamus:
"There are two songs I think of as being direct influences on my attempts to write Christmas music: Paul McCartney's "Wonderful Christmas time" and Donny Hathaway's "This Christmas". Both songs are written by master songwriters and have a lot of classic songwriting components: interesting chord progressions, great melodies, somewhat trite lyrics. I think they both capture the warm and fuzzy side of Christmas while still being interesting enough to stand alone as good pieces of music."
Die very special limited Vinyl-Edition der Weihnachtssingle war leider nur in Kanada anlässlich des Record Store Day erhältlich.
Label: Dine Alone Records
Link: Facebook
DifferentStars