Über Musik zu palavern – alles schön und gut. Aber ab heute wollen wir vermehrt Musiker zu Wort kommen lassen, ihnen mittels eines Fragebogens auf den Pelz rücken. Einfach einen unverkrampften Eindruck vermitteln, wie die werten Herren/Frauen/Bands so ticken. Wir möchten diese Rubrik O-Töne nennen. Damit der unverfälschte Eindruck gewahrt bleibt, werden wir diese O-Töne auch unübersetzt lassen. Den feierlichen Anfang macht heute Sophie Green, ihres Zeichens Mitglied der britischen Formation Her Name is Calla. Die Band habe ich bereits mehrfach hier auf dem Blog gelobt, morgen will mich dem brandneuen Album The Quiet Lamb annehmen. Es wird eine hymnische Empfehlung eines der besten Alben des Jahres werden, das darf ich bereits verraten. Doch nun quetschen wir Frau Green 14 Fragen lang aus…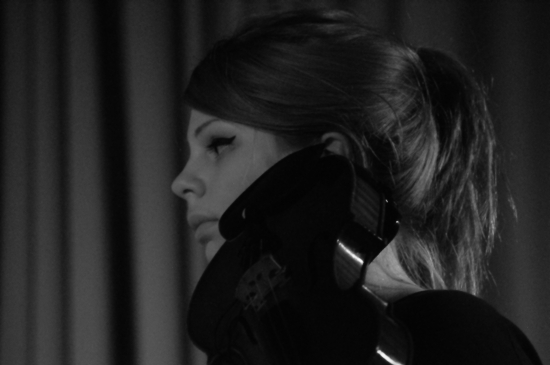 Foto Credit: [sjugge]
1.) Tell us three things we should know about you.
Three things about the band:
– Something always goes wrong.
– We're not in any way as moody as everyone thinks we are. Easily the opposite!
– We love each other.
Three things about me:
– I like make-up.
– I like X Factor.
– I drive the boys mad with my boring tweets on our Twitter page (@hernameiscalla)
2.) Is there any vice or passion worth neglecting music?
Anything that's better than making music? Not really… Unless you're hungry. Of course, this answer conflicts with my next answer. In which case, helping others and being a good person is worth neglecting music for… but music is helpful, too.
3.) If a good fairy offered you the Nobel Peace Prize or a Grammy, what would you choose?
A Nobel Peace Prize – that would mean I'd done something very worthwhile and beneficial to others. You can make good music that affects people without receiving a Grammy.
4.) If your music turned into colors, which colors would that be?
A warm, dark green… maybe a sort of khaki colour. Like ferns and hedges and overgrown gardens.
5.) Is there any instrument you despise?
Maybe…the oboe. Sorry.
6.) None of your fans would consider you a fan of this artist. Who is it?
Right now, I quite like that new Bruno Mars song, 'Just the Way You Are'. I love pop music.
7.) You're hanging out in a pub, all of the sudden they are playing one of your songs. How do you react?
"Oh my God!!!! That's us!! Who put that on? Why is everyone leaving the pub???"
8.) What's you favorite line from your recent album? And why?
"This is gonna hurt me more than you." (from Pour More Oil). Everyone's felt like this at some point – it's darkly romantic, at the same time as being thoroughly distressing. The song is not just about the acute, immediate pain of something, but everlasting pain in the after life for the mistakes you've made.
9.) Is there any oldie you would love to get credit for?
Maybe Love Hurts – the version by Emmylou Harris and Gram Parsons – I love the harmonies in that. Or anything by Kate Bush.
10.) Who have you been in your past life?
I was convinced for a while that maybe I'd hung out with someone like Dolly Parton's sweet but mouthy hairdressing character from Steel Magnolias… I think this might be because of the amount of Country music I heard as a child.
11.) How would you start a conversation with a major label boss, if you were trapped with them in an elevator?
"Oh my God, is the lift really stuck? How long do you think it will be till we get out? What bands are you working on at the moment?" (I wouldn't want to join his label, you see. He'd probably just con me out of all of my money.)
12.) Which sites do you visit to stay up-to-date with music?
Anything that's recommended by my friends on Twitter. And music blog's feeds that come through onto Twitter – a bit of The Line of Best Fit, Drownedinsound, Pitchfork, and a whole load of blogs…. The usual!
13.) You returning home after a tour, what did you miss the most?
Full English vegetarian breakfast at Dare cafe in Headingley, Leeds. And my boyfriend.
14.) What plans regarding music do you have for the next 6 months?
We want to play lots of gigs – particularly some festivals next year. We had a lovely time at Swingfest in Essen, so we'd love to spend our time doing more of the same. We'd also like to record some new material, too!
Links:
Peter von den Schallgrenzen hat Sophie Green ebenso ein paar Fragen gestellt
SomeVapourTrails