See the English description below the German text.
Alle Jahre wieder… dachte sich auch 2011 das Paste Magazine und veröffentlicht auch in diesem Winter ihren Holiday Sampler. Mit dabei sind liebgewonnene Indie-Pop-Klassiker und solche, die es werden könnten. Sage und schreibe 40 Weihnachtslieder werden hier unter Musikliebhabern verschenkt. Unser Favorit ist das wohl traurigste Weihnachtslied der Saison: Silent Nights von Scott Matthew mit Backingvocals der bezaubernden Sia. Als schöner Gegensatz dazu gestellt sich das fröhlichste Lied des Indie-Winter-Wonderlands: Slow Clubs Christmas (Baby Please Come Home). Rosinen picken fällt bei dieser Compilation schwer, trotzdem wollen wir auch ein paar Lieder besonders ans Herzen legen wie das zarte Duett von  Caitlin Rose und Keegan Dewitt, die feine Little Drummer Boy Interpretation von Nicole Atkins und mir wärmstens von Felix  (Beautiful Sounds) empfohlen: Rosie Thomas  mit Remember When It Snowed. Ach ja, She & Him haben Weihnachten in diesem Jahr fast komplett annektiert und dürfen natürlich auch nicht fehlen. Die Compilation kann direkt auf den Seiten des Paste Magazines gestreamt und kostenlos runtergeladen werden.
That's what I call an overdose of Christmas Songs. The Paste Magazine is giving away 40 tracks for free with their annual Holiday Sampler. Some are very well-known Indie pop classics, others are straight on their way to become must-plays for music lovers. It's hard to do any cherry picking here. Anyway, there's one outstanding track: Silent Nights by Scott Matthew with backing vocals from the adorable Sia. This track is undoubtely the most sad and delightful track of this season. Good for you: The Holiday sampler also delivers the most happy and upbeat Christmas song ever: Slow Club's Christmas (Baby please come home). There are a few more songs that deserve special attention: The tender duet of Caitlin Rose and Keegan Dewitt, the fine Little Drummer Boy cover version of Nicole Atkins and highly recommended by Felix (Beautiful Sounds) : Rosie Thomas  with Remember When It Snowed. Oh well, there's  She & Him of course, they kind of annexed this year's Christmas and won't have to be missed here too. You can stream and download the sampler directly on Paste.com.
Im Stream bei uns gibt's unsere Lieblingslieder der Weihnachts-Wundertüte:
Here's the stream of our two favs:
Scott Matthew w/ Sia: Silent Nights by Riot Bear Recording Co.
Slow Club: Christmas (Baby Please Come Home) by littlestsounds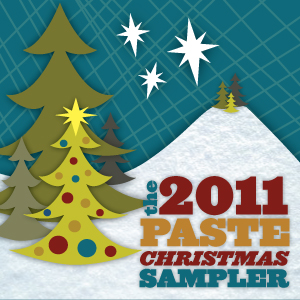 The 2011 Paste Christmas Sampler: 40 Free Holiday Tracks
Tracklist:
Deer Tick – Christmas All Summer Long
Fitz and The Tantrums – Santa Stole My Lady
The Polyphonic Spree – It's Christmas
She & Him – Christmas Waltz
Army Navy – Stay In
Class Actress – Silent Night
Roman Candle – It's Christmas, go on and say hello
Diamond Rugs – Christmas In A Chinese Restaurant
Body Language – Holiday
Quiet Company – Angels We Have Heard On High
Seryn – Joy To The World
Damie Jurado – Christmas Time Is Here
Woods – Christmas Time Is Here
Summer Camp – Christmas Wrapping
Barr Brothers – Dear Mrs Claus
Chamberlin – In The Bleak Midwinter
Rosie Thomas – Remember When It Snowed
Tristen – Blue Christmas
Josh T. Pearson – O Holy Night
Toad The Wet Sprocket – It Doesnt Feel Like Christmas
Kate Miller Heidke – The Day After Christmas
Slow Club – Christmas (Baby Please Come Home)
Dustin Kensrue – Christmas (Baby Please Come Home)
Nicole Atkins – Little Drummer Boy
Oryx And Crake – Little Drummer Boy
Warm Ghost – Oh Holy Night
Shelby Lynne – Aint Nothin Like Christmas
Zach Gill – Party Hard
Moe – Together At Christmas
Caitlin Rose And Keegan Dewitt – You Never Come Home For Christmas
Keb Mo – Shoppin On Christmas Eve
Hurricane Bells – Christmas Dont Be Late
Phantom Family Halo – Christmas
Vanessa Carlton – Happy Xmas War Is Over
Folk Angel – God Rest Ye Merry Gentlemen
Scott Matthew with Sia – Silent Nights
Eyes Lips Eyes – Slept In Through Christmas
Meiko – Maybe Next Year (Xmas Song)
Anna Vogelzang & AndrewYoung – Silent Night
Julian Koster – Jingle Bells
Link: Paste Holiday Sampler
DifferentStars